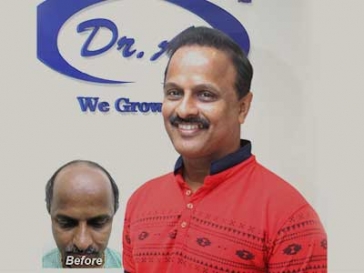 Hair loss and thinning of hair is a problem common to mankind, irrespective of the gender. The reasons for hair loss vary from lack of nutrients intake, unhealthy lifestyle, not following proper hair rituals, aging, hereditary to various other deficits. The general cause of hair loss is a hereditary condition called baldness in males and females. It usually occurs with aging and in other patterns, with a gradually diminishing hairline and baldness spots in men and thinning hair in women. Hormonal changes and medical conditions may also be the reason for declining hair growth with some. " Healthy hair is a crown that you wear", is a true statement.
So for many people, the loss of hair is a difficult and tough experience. While it is a known fact that hair loss is an inevitable part of life. Hair production slows down as we age. No one really wants to be saddened with early baldness when you're only in the prime years of your life.


Every individual in the present time cherishes shiny and healthy hair. Trying out various remedies that include hair supplements, tablets, head massages, cosmetic therapies and various home remedies like application of curd, eggs and onion juice. These mentions may provide solutions to the minute hair fall problems or the hair damage that is due to lack of nutrients. But what do you do if the hair loss is the result of a medicinal reaction or it's hereditary? For this, you surely need a strong and effective dosage.
Hair grooming occupies an essential position in the present-day lifestyles of people and fluctuating climatic conditions, but more importantly, having a head full of hair is as important to men as it is to women. To women, it may be essential to enhance beauty, and for men, it adds to a sense of manliness, makes them look good, thereby making them more appealing and attractive. Balding in men is associated with aging, as more commonly only old men are expected to lose hair and therefore, having hair on one's head is a sign of virility and masculinity.
It's for this reason that we see a lot of hair care and hair grooming products suiting different people of all forms and kinds, for different purposes, and even specialized and customized for use by men and women. But then these products are sometimes not sufficient for major hair problems.
A hair transplant is a Go-to solution finally! It is a one-stop solution that gives immediate and quick results in no time. No more stressing about hair loss or hair regrowth. Although some find the transplant process to be time-consuming and a bit expensive, but it ensures to provide sure and permanent results eradicating the hair loss problem from the root. Get your best hair transplant in Bangalore at true prices. We offer our best hair transplant services in our well-known hair transplant clinic in Bangalore.
Share this blog: