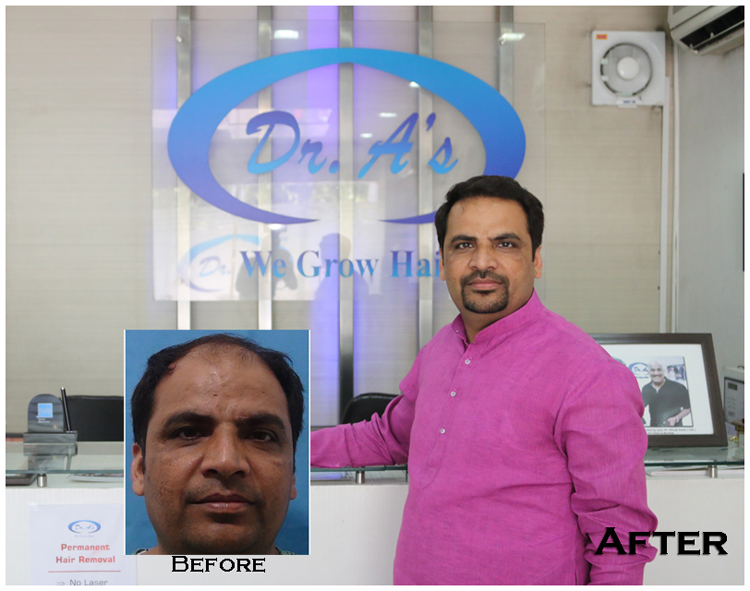 Hair fall has become a common problem for both men and women today. At the initial stages, the problem can be controlled by taking proper medications. But for the people having permanent hair loss, hair transplantation is the only method to restore the lost hair. The benefit of hair transplant is the transplanted hair can grow like normal hair. That's why the hair transplant industry is booming today. As all the fingers in our hands are not of the same length, the results of a hair transplant vary from clinics to clinics. Also, the hair transplantation is not a cheap surgery, you should select the hair transplant clinic wisely.
In this blog, we will discuss some important points that you should take care of before taking hair transplantation services from a clinic. However, if you are looking for the best clinic for hair loss treatment in Delhi, you can come to us, Dr. A's Clinic, one of the trusted hair transplant clinic in Delhi.
Don't Trust a Hair Transplant Clinic Blindly
Remember, hair transplant is a business for some clinics and you are a customer more than a patient for them. That's why they try to convince you for the procedure which you might not even need by doing a sweet talk with you. Due to the rapid growth of the hair transplant industry, it has attracted many talented and untalented persons who want to make money through hair transplantation surgeries. It is important for you to stay away from such types of clinics and not to become prey of their marketing gimmicks.
Don't Check for a Discount
There are many clinics that offer hair transplantation at cheap rates. This is their attempt to attract more customers. But you should not compromise the quality of hair transplant with money. You can also estimate the authenticity of the clinic by the cost at which it offers hair transplantation.
Ask Questions
Going into a hair transplant surgery without clearing all your doubts is a fool step. Before getting your surgery done make sure that you have cleared all your doubts about hair transplantation from the surgeon. A good doctor always tries to solve all the queries of patients.
Don't Forget to Check Doctor's Credentials
Before undergoing a hair transplantation procedure and make sure that the doctor has enough experience and qualification in the same domain. According to AHRS India, only the following doctors are allowed to do hair transplant surgery:
1. Plastic surgeon
2. A general surgeon trained in hair transplant surgery.
3. Dermatologists
4. ENT surgeon
You can ask the following questions from your hair transplant surgeon.
1. Whether the doctor has undergone formal training in hair transplantation or not.
2. Whether the doctor is a member of a reporter hair transplant association or not.
3. What is the success rate of the doctor?
4. During a hair transplant, what steps the doctor does and what steps his assistants or technicians do.
5. Do they follow up post-surgery?
6. How capable are they in handling the emergency cases.
7. Do they follow a sterile practice?
Final Words
Hair transplant is life-changing for the persons suffering from baldness. Therefore, it is mandatory to invest your money for hair transplants in the right place. We at Dr. A's Clinic assure our patients that they will get the best results by taking our hair transplantation surgery services. Our main focus is to provide honest services and not to fool the patients. You can visit our clinic for more information on hair transplant. We have done a lot of successful hair transplants. Today, we rank among the hair transplant clinic in Delhi.
Share this blog: