Hair Transplant in Chandigarh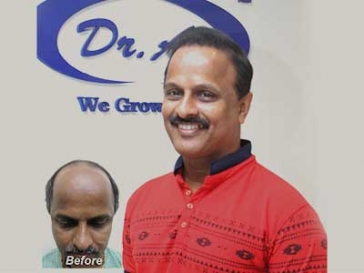 Dr. A's Clinic is highly-reputed for providing the most effective and comprehensive hair transplant treatments. If your baldness is intensifying or your hair is thinning, you need to act quickly. Visit Dr. A's Clinic to consult the best hair transplant surgeons in Chandigarh. We thoroughly analyze the condition of each patient and recommend the finest way to deal with balding or thinning hair.
Hair Transplant Clinic with Cutting-edge Technology
Dr. A's Clinic is a well-recognized and highly-preferred choice for hair transplant in Chandigarh. With our scientifically-proven, medically-backed treatment programs, we ably offer quick and reliable hair regrowth solutions among FUSE, FUHT, and FUE to our patients. Our unique combination of state-of-the-art clinic and outstanding nursing staff enable us to deliver excellent results.
Regrow Your Hair with Experienced Hair Experts
Hair loss often makes a devastating impact on confidence and self-esteem. Avoid such undesirable mental health and regrow your hair with the help of highly-experienced hair experts at Dr. A's Clinic. We are renowned for high success rates yet low hair transplant cost. Act now and get rid of the reason hindering you from enjoying your life and success.