Best Hair restoration Treatment in Delhi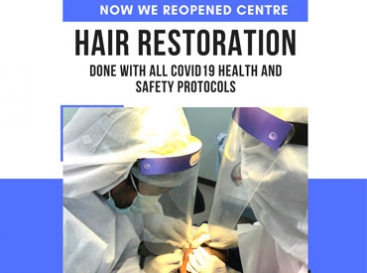 We all love to have a luxurious growth of hair on our scalp. Are you suffering from the hair loss problems? Connect with the leading hair restoration clinic in your vicinity. Dr. A's clinic introduces one of the best and cost-efficient hair restoration services in Delhi. So what are waiting for? Please pick up your telephone dial cord and ring their number.
Dr. A's clinic Complete is the utmost hair restoration solution for people with advanced hair loss conditions. It gives these candidates a full head of hair with their desired density and volume while restoring their naturally-growing hairline.
What makes Dr. A's clinic stand unique in the market?
Dr. A's clinic currently received an honorary recognition as the best hair restoration treatment in Delhi. Equipped with all the latest technology and hair restoration instruments in a highly furnished and sophisticated infrastructure, you need not worry with the efficiency of your hair restoration procedure. Generally the hair restoration cost is high but at our clinic we provide this services at reasonable cost.
What your doctor wants you to know to about the hair restoration procedure?
Procedure for Best hair restoration in Delhi is currently in its phase of expansion and is clinching in the urgent attention of many people suffering from the hazards of hair loss. Dr. A's non surgical hair restoration process is cost-efficient and is accomplished by some of the geniuses in town.