Hair Transplant in India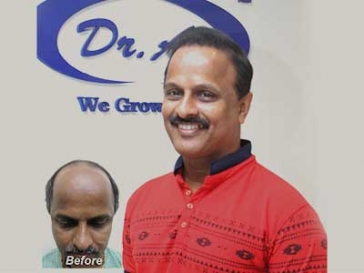 Dr. A's Clinic is a state-of-the-art medical clinic that consists of highly trained medical professionals and the best hair transplant surgeons in India. We are experts in delivering various surgical and nonsurgical treatments for hair restoration. We always strive to attain the best results for our patients with best practice in an environment of safety, privacy, and comfort.
Perfect Combination of Experience and Technology
Dr. A's Clinic has been successfully providing hair transplantation treatments to thousands of women and men. Our capability of combining the best of science, experience, patient care, and technology provides us with an extra edge to achieve genuine results. Our consistent delivery of excellent results has propelled our reputation among the most admired clinics for hair transplant in India.
Attain the Best Look and Feel with Our Help
Dr. Arvind Poswal at Dr. A's Clinic has over 20 years' experience in performing numerous hair transplantation procedures. You can rest assured while consulting us for your hair loss problem as you are always in the experienced hands at Dr. A's Clinic. The low hair transplant cost yet high success rate make us stand apart and a lot ahead of other hair care clinics in India.