Best Hair Growth Treatment In Delhi, India & Hair Regrowth Treatment Cost In Delhi, India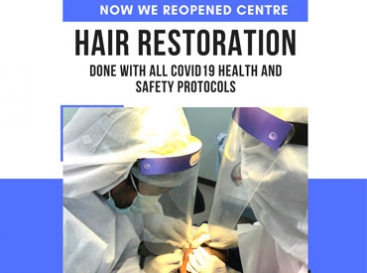 If you are someone who values the luxurious growth of hair on your head but are facing hair loss problems, you can take hair regrowth treatment in Delhi, India from the top hair transplant clinic in your area. Dr. A's clinic provides top-notch and cost-effective hair restoration services in Delhi. Don't wait any longer; grab your phone and give them a call.
The Complete Hair Restoration Solution offered by Dr. A's clinic is the ideal solution for individuals with severe hair loss. This solution provides them with a full head of hair with the desired thickness and volume while restoring their natural hairline.
Causes of Hair Loss
There are several causes of hair loss, including:
Genetics: Male and female pattern baldness, also known as androgenic alopecia, is the most common cause of hair loss and is inherited from one's parents.
Hormonal changes: Hair loss can also be caused by hormonal changes due to pregnancy, menopause, or thyroid disorders.
Medical conditions: In case of certain medical conditions, such as alopecia areata, lupus, and scalp infections, can lead to hair loss.
Medications: Sometimes, particular medicines such as antidepressants, chemotherapy drugs, and blood thinners can cause hair loss as a side effect.
Nutritional deficiencies: Lack of certain nutrients such as iron, protein, and vitamins can cause hair loss.
Stress: High-stress levels can disrupt the normal hair growth cycle, leading to hair loss.
Hairstyles and hair treatments: Tight hairstyles and frequent chemical treatments such as dyes, perms, and straightening treatments can damage the hair and contribute to hair loss.
Aging: As we age, hair growth slows down, and hair may become thinner and weaker.
It's important to consult with a qualified dermatologist or hair loss specialist to determine the underlying cause of your hair loss and create a personalized treatment plan to address the issue.
The hair growth cycle comprises three stages
The hair regrowth cycle consists of three phases, which are as follows.
Anagen phase: This stage is the active growth phase, during which the hair shaft grows longer. Depending on the individual, this phase can last anywhere from 2 to 7 years.
Catagen phase: This is a transitional phase that lasts for approximately 2-3 weeks. During this time, the hair follicle stops growing and begins to shrink.
Telogen phase: This phase is called the resting phase of the hair growth cycle, during which the hair follicle is inactive for approximately 3-4 months. After this time, the hair follicle enters the anagen phase again, and a new hair shaft grows, pushing the old hair out.
It's important to note that each hair follicle has a different growth cycle stage at any given time. This is why we typically shed 50-100 hairs daily, as some hair follicles are in the telogen phase and naturally shedding while others are in the anagen phase and actively growing.
However, the hair regrowth cycle is complex and can be influenced by several factors, such as genetics, hormones, nutrition, and age.
Hair Regrowth Treatments For Men
There are various treatments available for hair regrowth in men. Some of them are as follows.
Topical minoxidil: Minoxidil is a medication applied to the scalp to enhance hair growth and prevent further hair loss. It is available over the counter in various strengths and formulations.
Oral medications: Finasteride is an FDA-approved medication that can help block the hormones that contribute to hair loss and promote growth. It is available at prescription only and may have some side effects.
Low-level laser therapy: This treatment involves using specialized devices that emit low levels of laser light to stimulate hair follicles and promote growth. It can be done in-office or at home using a handheld device.
Hair transplant surgery: Hair transplant surgery involves placing hair follicles from one segment of the hair scalp to the bald area. It is an effective long-term solution for hair loss, but it can be expensive and require multiple procedures.
Scalp micro pigmentation: Scalp micro pigmentation involves using tattooing techniques to create the appearance of a shaved head or fuller hair. It can be a non-invasive and cost-effective solution for hair loss.
It's important to consult with a qualified dermatologist or hair loss specialist to determine the best treatment plan for your specific needs and goals.
Hair Regrowth Treatments For Women
Multiple reasons might cause hair loss in women, such as hormonal imbalances, genetics, stress, certain medications, and medical conditions like thyroid disorders and alopecia. Treatments for hair regrowth treatments for women depend on the underlying cause, the severity of the condition, and individual factors. Here are some common treatments for hair loss in women:
Topical Minoxidil: Minoxidil is an FDA-approved topical medication for treating androgenetic alopecia (female pattern hair loss). It works by promoting hair growth and preventing hair loss. It is available over-the-counter in 2% and 5% formulations and is applied twice daily to the scalp.
Prescription Medications: Finasteride is an FDA-approved prescription medication to treat men's hair loss conditions, but some women may also benefit from it. It restricts the conversion of testosterone to dihydrotestosterone.
Hormone Therapy: Hormone imbalances can cause hair loss in women, so hormone therapy may sometimes be recommended. This involves taking estrogen or progesterone supplements to balance hormone levels and promote hair growth.
Platelet-rich plasma (PRP) therapy: This is a relatively new hair loss treatment involving injecting platelet-rich plasma (PRP) from the patient's blood into the scalp. PRP contains growth factors that promote hair growth.
Hair Transplantation: Hair transplantation is a surgical process that involves placing hair follicles from one area of the scalp to another.
Lifestyle Changes: Making certain lifestyle changes including stress reduction, eating a balanced diet, and getting enough sleep, can regulate hair growth and prevent hair loss.
It is recommended to consult a hair specialist to understand the exact cause of hair loss in women and the most appropriate treatment for it.
What your doctor wants you to know about this procedure?
Procedure for Best hair restoration treatment in Delhi is currently in its phase of expansion and is clinching in the urgent attention of many people suffering from the hazards of hair loss. Dr. A's non surgical hair restoration process is cost-efficient and is accomplished by some of the geniuses in town.