Best Hair Transplant In Delhi NCR, India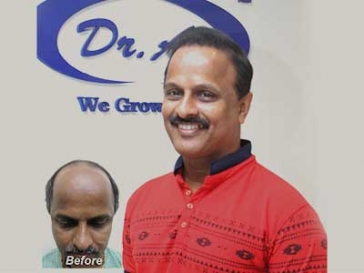 The issue of hair loss is quite prevalent these days, and it is accompanied by various symptoms such as baldness, loss of self-esteem, shame, and aesthetic impairment. If you are struggling with hair loss or baldness, you have come to the right place. FUSE HAIR is the best hair transplant in Delhi NCR, India that offers a permanent solution to this problem through hair transplant surgery. If you are considering a hair transplant, choose FUSE HAIR clinic. However, before undergoing such a procedure, selecting the best clinic that provides the best services, treatments, and post-operative care is important. If you are searching for the best hair transplant in Delhi NCR FUSE HAIR is your ideal choice.
But before opting for such surgeries don't you think it is crucial to opt for the best clinic? what it provides, how it provides, and what are the expectations and post-operative care? So, if you are looking for the best hair transplant in Delhi NCR, FUSE HAIR is the right choice for you.
A Brief
A Hair Transplant surgery is a procedure that restores hair growth in balding areas by transplanting hair follicles. FUSE HAIR is a renowned name in the world of Hair Transplant and Restoration Clinics with a team of highly skilled and experienced hair transplant surgeons in India. FUSE HAIR -HAIR TRANSPLANT AND RESTORATION CLINIC offers hair transplant surgeries based on the extent of baldness and the current condition of the scalp.
If you want to regrow your hair and are looking for the best hair transplant in Delhi NCR, India with the guarantee of a natural result, book a consultation appointment at FUSE HAIR. This small step towards your well-being can change your life. During the consultation at FUSE HAIR in Delhi NCR, you will undergo a complete medical hair loss evaluation with a FUSE HAIR hair restoration expert.
We are the top Hair Transplant Clinic and can proudly claim to have the most satisfied patients who have undergone hair transplant treatments at FUSE HAIR Clinics in Delhi NCR. We have earned a reputation for providing the best hair transplant in Delhi because of our expertise and perfection in hair transplant treatments. Whether treating a regular person or a celebrity, we ensure to follow safe and secure techniques that provide natural and lifetime results.
What Is The Procedure For the Best Hair Transplant In Delhi NCR, India?
The steps involved in a hair transplant involve taking small hair grafts from the scalp or a donor area and transplanting them to the balding area, which is effective for people of all ages and genders. The hair follicles are removed from the scalp or donor area and are meticulously implanted into the thinning or balding region. The process is the same for both men and women.
Washing the scalp is an integral part of the hair transplant process. The surgeon will then clean the scalp and administer a numbing medication to the back of the head.
The transplant will be performed by the doctor using one of two methods: Follicular Unit Extraction Surgery (FUSS) or Follicular Unit Extraction (FUE). With FUSS, a 6 to 10-inch strip of skin is removed from the back of the head. If you are searching for the best hair transplant surgeon in Delhi, this clinic is a reliable option, and we are well-informed about the treatments they offer.
Our surgeons are highly skilled and experienced in using state-of-the-art techniques and procedures; thus, we are ranked as providing the best hair transplant in Delhi NCR.
What is the Hair Transplant Cost in Delhi NCR?
The Cost of a Hair Transplant procedure in Delhi depends on the type of hair loss and scalp condition. As every patient has a unique hair loss, the hair transplant cost can vary.
Factors like
who performs your surgery
the skills and experience of the surgeon
how strict are the safety and hygiene protocols
the number of grafts/hairs follicles needed
if specialized instruments are used during the procedure
All these above-mentioned factors can alter and decide the cost of a hair transplant procedure.
So, evaluating other factors too along with cost will help you make a smart asset. So never trust a clinic blindly that shows a price tag as they may be compromising the safety of the patients, using untrained staff, and reusing the infected surgical equipment without sterilizing.
Although the hair transplant cost in Delhi NCR can vary, FUSE HAIR is considered to be the most cost-effective clinic as we guarantee a higher graft survival ratio of more than 90%.
At FUSE HAIR clinic in Delhi, the Hair transplant procedure is performed following the best safety standards by experienced and certified doctors to ensure you get natural results. We believe in offering the best results at the best price.
Hair Transplant treatment at FUSE HAIR Delhi NCR is very convenient and affordable.
Where can you get the Best Hair Transplant in Delhi NCR?
Hair transplant surgery in India is gaining popularity because people are getting more conscious about their looks. Although the success rates of hair transplant surgery are quite high, choosing the clinics and surgeons judiciously is very essential.
A's clinic, which is providing one of the best hair transplants in India can guide you with all possible solutions which suit your personality and features and will make you feel amazing about yourself. Dr. Arvind Poswal is a world-renowned hair transplant surgeon with numerous qualifications from reputed universities and colleges. His wide clinical experience and outstanding excellence in his work make him offer you the best hair transplant surgery in Delhi. He has received several awards and felicitations across the globe for his huge contribution to this hair transplant field. The entire team of A's clinic offering the best hair transplant in Delhi takes pride in maintaining the highest quality of service and professional excellence. They provide accurate treatment plans at affordable costs that will not be a burden to your pocket and will always prove to be an asset. Although the cost of hair transplant surgery in Delhi depends upon numerous factors, care must always be taken to choose a well-experienced and qualified surgeon having good credentials and an excellent reputation. This factor must never be compromised, as the surgeon will ultimately decide the success of your treatment.
So, for painless and scar-free hair transplant in Delhi, visit Dr. A's clinic which is equipped with the best doctors, latest and cutting edge technology and modern techniques, highest standards for hygiene and infection control to provide you with the best and most satisfying outcomes in the most comfortable and a safe environment.
Why Choose Dr A's Clinic For The Best Hair Transplant In India?
Every individual at FUSE HAIR Clinic receives a specialized and personalized treatment plan combined with compassion in a nurturing environment. The hair transplant specialists and non-medical staff at the FUSE HAIR clinic have extensive knowledge and many years of experience.
FUSE HAIR Clinic is the best hair transplant clinic in Delhi that performs hair transplant operations in Delhi. The FUSE HAIR clinic has the most modern technologies. The professionals of our clinic perform each medical intervention according to the protocols and with the utmost professionalism.
They use the most leading technologies, that guarantees positive results. Our clinic offers the best hair transplant in India at an affordable cost.
Dr. Arvind Poswal believes that each patient's necessities must be attended and money should not come between a patient and their treatment.
Our clinic keeps everything transparent and prioritizes patient safety and comfort. The patient's well-being and satisfaction are the main objectives of our team at the FUSE HAIR Clinic.
So if you are looking for exceptional medical service, especially the best hair transplant services in India, FUSE HAIR Clinic is your go-to place without a second thought.
Why Dr. Arvind Poswal is the Best Doctor for Hair Transplant in India?
Dr. Arvind Poswal is among the best surgeons in India, an expert in handling hair transplant surgeries. He is well-liked by both his patients and peers. He is a successful surgeon and an inventor, an artist, a perfectionist, and an educator.
Dr. Arvind Poswal obtained his MBBS degree from the esteemed Armed Forces Medical College in Pune, India. Dr. Arvind Poswal holds the following degrees: MBBS (AFMC), MHA, PGPD (Johns Hopkins), Dip. Phys, PCTD, PCP Founder Member, FUE Europe President, and SHTS. He is also a member of the American Hair Loss Association, IAHRS, IPHA, SHTS, ESHRS, ISHRS, AHRS, FUE Europe, and the International Society for Hair Restoration Surgery.
He is dedicated to his service, owing to his army genes (his grandfather and father both served in the army). Dr. Capt Arvind Poswal, the creator of the stitchless FUSE/FUE technique, is well-known for his contributions to the field of hair transplantation. He has revolutionized the concept of hair transplant surgery in India.
His study and work have been published in several major medical journals, including the Indian Journal of Dermatology and the Indian Journal of Plastic Surgery, after he performed the world's first body hair to scalp transplant (BHT) in 1999. He is a doctor-artist who has a particular interest in treating the most challenging cases. Patients from all over the world visit him for consultation because of his expertise in BHT. Dr. Arvind Poswal undoubtedly carries out the best hair transplant surgery in India.
He is kind, compassionate, humble, and at the same time highly professional in his approach towards the patients. He has handled complex cases in the past, resulting in successful outcomes.
If you are looking forward to getting your hair back through a hair transplant in Delhi, Dr. Arvind Poswal is your expert!
Know More About Hair Transplant in Delhi, NCR
Millions of people experience hair loss regularly, which can be distressing and demoralizing. However, hair transplantation has become a powerful method for hair regrowth because of developments in medical technology. In this blog, we'll delve into Hair Transplant in Delhi, NCR, illuminating the method, its advantages, and what to think about before surgery.
A surgical treatment called a scalp hair transplant involves moving hair follicles from the donor area on the sides or back of the head to places with thinning or hair loss. It is the most popular hair transplant treatment for restoring hair density and enhancing the appearance of the scalp. Local anesthetic is frequently used throughout the treatment to ensure the patient experiences the most minor pain.
Body hair transplant is a specialized form of hair restoration that involves transferring hair from different body parts to the scalp or other areas experiencing hair loss. The procedure suits individuals with limited donor hair on their scalp or who desire additional coverage. Body hair, particularly from areas like the chest, back, or beard, can be harvested and transplanted using techniques similar to traditional hair transplantation. Body hair transplant offers a viable option for seeking restoration when scalp donor hair is insufficient.
Popular hair transplantation methods include Follicular Unit Extraction (FUE). FUE, in contrast to conventional strip harvesting, entails removing individual hair follicles from the donor area, which is often the rear of the scalp. Many choose this minimally invasive surgery because it does not leave a linear scar. After being carefully implanted into the recipient location, the removed follicles promote the growth of hair that seems natural. FUE has several benefits, such as quicker recovery, less discomfort, and the capacity to remove hair from different body areas.
Cost of Hair Transplant in Delhi, NCR
The price of a hair transplant in India varies based on several variables, including the degree of hair loss, the procedure utilized, the surgeon's reputation and level of experience, the clinic's location, and the number of grafts necessary. A hair transplant typically costs between INR 60,000 and INR 3,50,000 or more in Delhi, NCR.
Know More
FAQ About The Best Hair Transplant In Delhi