Best Hair transplant Treatment in Delhi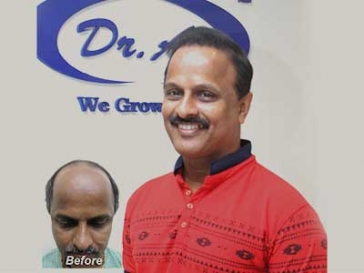 Dr. A's clinic is the leading provider of the Best Hair Transplant in Delhi. Our modern facility provides world-class treatment for men and women suffering from various phases of hair loss. We offer different kinds of treatment including Direct Hair Implantation (DHI), Scalp Micropigmentation, Transplant/Restoration, and Direct Hair Fusion. Both procedures are carried out only after a thorough inspection of the patient's scalp.
We provide patients with 100% satisfactory and natural outcomes. Dr. A's Clinic is the only hair transplant clinic where all procedures are performed by highly trained and experienced physicians. Dr. A's Clinic is also known as the top Hair Transplant Surgeon in Delhi and we aim to give you the quality treatment at the lowest prices. Dr. A's Clinic is well-known for providing the best hair transplant treatment in Delhi that is performed by highly skilled hair surgeons.
What Is The Procedure of Best Hair Transplant In Delhi?
The special steps of a hair transplantation procedure include extracting small punch grafts from the scalp or a donor region and fusing them onto the area with a low density of hair, which works wonders for anyone regardless of gender or age. Follicular units are removed from the scalp or the donor region, and these units are carefully inserted into the area where there is thinning or balding.
Hair transplant is a process that is the same for both men and women. The washing of the scalp is an essential part of the hair transplant protocol. Then the surgeon cleans your scalp and injects medication into the back of your head to numb it. Your doctor will conduct the transplant using one of two methods: follicular unit strip surgery (FUSS) or follicular unit extraction (FUE). A 6- to 10-inch strip of skin from the back of your head is removed with FUSS.
If you are looking for the Best Hair Transplant Surgeon in Delhi? Dr. A's Clinic is one of the trusted clinics and we have the knowledge of all the treatments. Our surgeons are well trained and practiced to use modern techniques as well as procedures.
What Is The Cost Of a Hair Transplant Surgeon In Delhi?
It's important to remember that everyone is special, and the cost is much more than a number. Hair Transplant Cost in Delhi is a reflection of efficiency, experience, cutting-edge technology, and desired outcomes, among other factors. The most significant factor in deciding the cost of hair transplantation is that it differs from one case to the next (mainly the grades and cause of baldness). It's normally determined based on how many hairs will be inserted. Many clinics do not guarantee outcomes, graft survival rates, or accountability about the number of grafts implanted. However, this is a key factor in evaluating which clinic a patient can prefer.
FAQ About The Best Hair Transplant In Delhi