Best Hair transplant Treatment in Delhi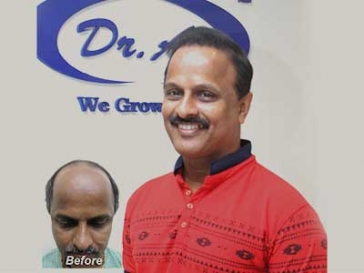 Hair fall is a serious problem occurring in men and women. Mid-length breakage of hair or the complete hair loss from the scalp leading premature balding is a very common disorder in the present times. At the times when no medical treatment is effective in the cure of hair loss namely no ointments, hair oiling, or hair strengthening nutritional tablets, hair transplant treatments offer the one-stop solution. We usually make the movement of hair from the backside of the head to the top of the head in our transplant procedures. Our hair transplant treatment is done under local anesthesia. Dr. A's Clinic is known for providing the best hair transplant in Delhi, done by expert and well proficient hair surgeons.
Important points about the hair transplant procedure
We are the best Hair Transplant Service Providers as we have a team of proficient doctors who have expertise in hair transplant procedures having so many years of experience. You can get the best possible solutions to your problems. Working wonders for everyone irrespective of gender and age, the special steps of a hair transplantation procedure include removing small punch grafts from the scalp or a donor area and fusing them onto the area with a low density of hair. Hair transplant is the procedure that is the same for both men and women, that is follicular units are extracted from the scalp or the donor area, and these units are carefully implanted into the area where there is thinning or balding. The important part of the hair transplant process is cleansing the scalp profoundly. So first, the surgeon cleans your scalp and injects medicine to numb the back area of your head. Your doctor will choose one of two methods for the transplant: follicular unit strip surgery (FUSS) or follicular unit extraction (FUE). With FUSS, the surgeon removes a 6- to 10-inch strip of skin from the back of your head.
Experienced team of hair experts
We, at Dr. A's clinic, have a well-experienced team of professional hair transplant surgeons in Delhi. Having great expertise, our doctors do have the knowledge of all the treatments and hence also have an eye for choosing the apt donor part. Carrying out the procedure of hair transplantation in the best possible ways, our doctors are well trained and practiced to use modern techniques and procedures. The major reason for baldness is hair loss. The various factors are-
Stress
Illness
Medications
Diet
Hormonal Imbalance
Heredity
Climatic changes
Hair transplant is the permanent remedy and one-stop solution along with being a cost-effective and low maintenance treatment. It has promising and miraculous results. If you talk about hair transplant cost in Delhi, You will get very reasonable costing at Dr. A's Clinic.
If you are looking for the best hair transplant clinic then You can get your Hair Transplant at Dr. A's Clinic.